home

Accueil

Français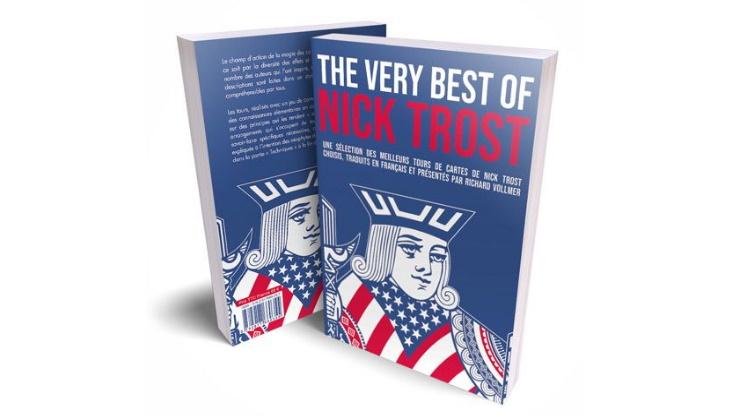 The Very best of Nick Trost
Description
Dans la lignée du Very Best Of sur les Tours Automatiques, du VBO Dai Vernon et du VBO Simon Aronson, voici un tout un nouveau Very Best Of aux éditions Magic Dream !
Il s'agit là d'un ouvrage sur la magie de Nick Trost qui vient s'ajouter à la Collection ! Traduit en français par M. Richard Vollmer, qui nous fait l'honneur de le reprendre en VERSION AUGMENTÉE (280 PAGES dont la plupart composées de tours inédits qu'il a séléctionnés pour vous ave soin et non publiés dans le livre d'origine) !
Le champ d'action de la magie des cartes de Nick Trost est vaste, que ce soit par la diversité des effets et des méthodes expliqués ou le nombre des auteurs qui l'ont inspiré, toutes époques confondues.
Les descriptions sont faites dans un style sobre et clair qui les rend compréhensibles par tous.
Vous découvrirez des tours incroyables, réalisés avec un jeu de cartes ordinaire, qui ne demandent que des connaissances élémentaires en cartomagie. Beaucoup reposent sur des principes qui les rendent « automatiques », ou d'ingénieux arrangements qui s'occupent de tout, ou presque !
Les quelques savoir-faire spécifiques nécessaires, ou tout simplement utiles, sont expliqués à l'intention des néophytes dans les tours qui les utilisent, ou dans la partie « Techniques » à la fin de l'ouvrage.
Nous avons hâte de vous en dire + sur ce magnifique livre, et également de vous détailler son contenu dans notre prochain Live ! AU PROGRAMME :
Half-Cut Coincidence The Penney Paradox Fate Doubled Quadruplication Amazing Aces Foursome ESP Math and Suit Discernment The Dice Decider, Revisited – Version avec une quinte floche royale Climax for James's Four-Ace Assembly The Sympathetic Nines Dealing with Dice Lucky Sevens Do You Play Poker ? Coordinated Colors Solomon's Cards and Dice The Gathering of the Court Cards – Order in the Court The Magnetic Aces – Triplets Royal Flush Gilbreath Again! Weighing the Cards. Cutting the Aces The Indicator Card The Odd Card
Significator Cards
One Card, Two Dice Courtship Prediction Predicting One of Six Cards – Version avec 7 cartes The Omega Bet Updated Lost and Found Royal Rendezvous The Mystic Nines I, II, III Acey-Dicey (Version impromptue & Variante avec les rois et les reines) Sympathetic Suits Again! Aces From Nowhere Vollmer's "242 Deal" Extended Bicycle Plus ! + Version avec un jeu Aviator / un jeu Bee. Jacks Up! Triple Dealing the Aces The Restless Court Cards. Odd Man Wins Infallible Prediction The Families Reunited The Jacks Come Back A Royal Routine Curious Aces Three-Jack Routine Hearts are Forever The Couple's Lucky Number
The Mystic Threes
Two-Timer Revisited Mathematical Location The Lie Detector The Jokers are Wild The Mystic Jacks All Fair Gemini Twins – All Thatcher's "Affinity Cards". Three Dice and a Chosen Card Royal Reunion Out of this World Gil's Game – Odd and Even Bannon's Triumph Revisited – Triumph With The "Equalizer" Shuffle Cheater's Delight Temple Patton's Coincidence Trost on "Scarne's $1,000 Card Trick" Trost on Hamman's "Magic Cards" Do as I Do With Two Cards "Love Has Great Power" Spectator Deals Any Hand Called For A Puzzling Assembly An "Equalizer" Revealment Trost on Ben Harris's Red-Black Trick – A Red/Black Location – Double Separation "Baby Hummer", Simplified Die-Abolical Aces Regular-Deck "Cidentaquin" Discerning Deuces Double Trouble Blind Dates
Playing the Aces
New View Revisited "Total Coincidence" With One Deck "Babylon", Simplified "Miraskill" with the "Equalizer" Shuffle "This is your Card" – With a Punch The 20/20 Prediction Four Dice and Two Mates Climax Prediction Regular-Card Telethesia Coincidental Cut Color Eureka – A New Handling Techniques Le «Biddle Move» L'étalement Ascanio L'ajout secret au retournement Braue Le retournement Braue Le mélange Charlier Le faux mélange Charlier Le «Swindle Switch» de Paul Curry La double coupe Le comptage Elmsley Le mélange G. W. Hunter Bill Simon's «Prophecy Move» Le «Slop Shuffle» Le retournement Tenkaï «The Criss-Cross Force» Le «Flushtration Count » de Brother John Hamman Le forçage-contrôle «Flip-Flop» de Bro. John Hamman La fausse coupe du tricheur
---